We Offer Heat Exchanger Tapered Tube Plugs of different sizes and materials For Tubes Having Od Of 1/4″ Up to 4". We Can Even Offer Customised Sizes Of Heat Exchanger Tube Plugs As Per Client's Requirement
Metal Tapered Plugs – Tube Plug Sizing Chart
Tube OD
Gauge
Dimension (Inches)
"A"
Small End
"B"
Large End
"L"
Length
1/4″
18-24
0.141″
0.235″
1-1/4″
3/8″
12-24
3/8″
15-24
0.213″
0.371″
1-3/4″
1/2″
13-15
1/2″
15-24
0.337″
0.495″
5/8″
12-14
5/8″
14-24
0.449″
0.625″
3/4″
10-14
3/4″
14-24
0.564″
0.750″
7/8″
10-13
1″
8-9
7/8″
15-24
0.706″
0.875″
1″
10-15
1″
13-18
0.776″
0.934″
1″
18-24
0.892″
1.050″
1-1/8″
13-17
1-1/8″
15-24
0.949″
1.125″
2″
1-1/4″
10-14
1-1/4″
13-19
1.010″
1.186″
1-1/4″
19-24
1.147″
1.323″
1-1/2″
10-24
1.200″
1.495″
3″
1-1/2″
14-24
1.305″
1.600″
1-3/4″
6-13
1-3/4″
14-22
1.575″
1.870″
2″
6-13
2″
12-22
1.700″
1.995″
2-1/4″
6-13
1.805″
2.100″
2-1/2″
5-18
2.000″
2.375″
2-3/4″
4-10
2.232″
2.500″
3″
5-12
2.524″
2.834″
4″
3″
10-23
2.625″
3.000″
3-1/4″
7-14
2.875″
3.125″
3-1/4″
13-23
3.010″
3.250″
3-1/2″
7-12
3.125″
3.375″
3-1/2″
13-23
3.260″
3.500″
3-3/4″
5-12
3.274″
3.567″
3-3/4″
13-23
3.510″
3.750″
4″
5-12
3.524″
3.817″
4″
13-23
3.782″
4.000″
We Offer Tapered Plugs of different sizes and materials For Tubes Having Od Of 1/4″ Upto 4". We Can Even Offer Customised Sizes As Per Client's Requirement
Buy Tapered Plugs From Solitaire Overseas
Uses of Metal Tapered Tube Plugs
Metal Tapered Plugs For Heat Exchangers Are Used To Seal The Leaking Tubes In Heat Exchangers, Condensers,  Boilers,  Coolers, Etc.Tapered plugs are used extensively in heat exchangers . they are used for repairing or fixing leaks heat exchangers. tapered plugs offer low cost maintenance and are highly efficient , they offer fastest way to fix leaks in heat exchangers.
 We have wide variety of tapered plugs. We are one of the leading exporters, suppliers and stockists of tapered plugs. Having a stock of more than 10000 tapered plugs, we can deliver huge quantity of tapered plugs as and when required . we have a production capacity of more Than 1000 tapered plugs a day, so that we can cater to your large requirements. We even cater to small requirements of our customers. Our tapered plugs are exported all over the world to many industries.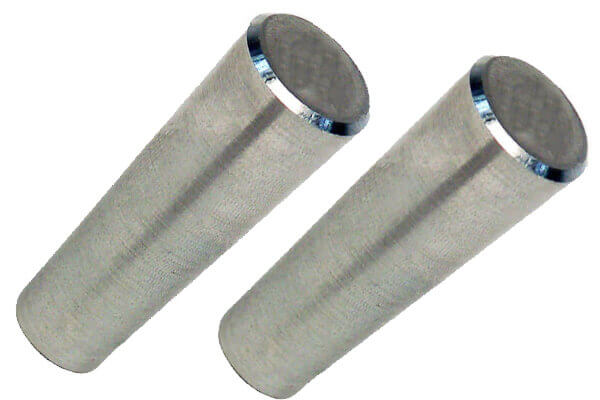 Materials / Types Of Metal Tapered Plugs For Heat Exchangers
Exporters Of Metal Tapered Plugs For Heat Exchangers
SOLITAIRE OVERSEAS IS A LEADING STOCKIST, EXPORTER, SUPPLIER & MANUFACTURER OF TAPERED PLUGS USED IN HEAT EXCHANGER/ CONDENSER/ BOILER/ COOLER, ETC. SOLITAIRE OVERSEAS REGULARLY EXPORTS TAPERED PLUGS TO OMAN, QATAR, JORDAN, UNITED STATES OF AMERICA, SOUTH AMERICA, BRAZIL, ABU DHABI, INDONESIA, THAILAND, PERU, SAUDI ARABIA, TURKEY, EGYPT, TRINIDAD & TOBAGO, ETC
Why Choose Solitaire Overseas To Buy Metal Tapered Plugs and Tubes?
Huge Stock Of Metal Tapered Tube Plugs Available In Different Sizes And Materials To Cater Your Requirements
Huge Metal Tapered Plugs Production Capacity
Offers Customised Sizes Of Tapered Plugs As Per Client's Requirement
One Of The Leading Exporter, Supplier, Manufacturer And Stockist Of Metal Plugs
Solitaire Overseas Is Known For Its Fastest Delivery Of High-Quality Tapered Plugs
High-Quality Metal Tapered Plugs
Can Supply Heat Exchanger Metal Tapered Tube Plugs To Any Part Of The World
heat exchanger tube plugs are available In all sizes/dimensions
Looking For Exporters & Suppliers Of Heat Exchanger Plugs? Come Right To Us!